CLEANING UP FOR CLEAN WATER: INSIDE THE NEW WRF IN WEST PALM BEACH
Water Reclamation Plant in South Florida Improves Infrastructure, Coatings and Linings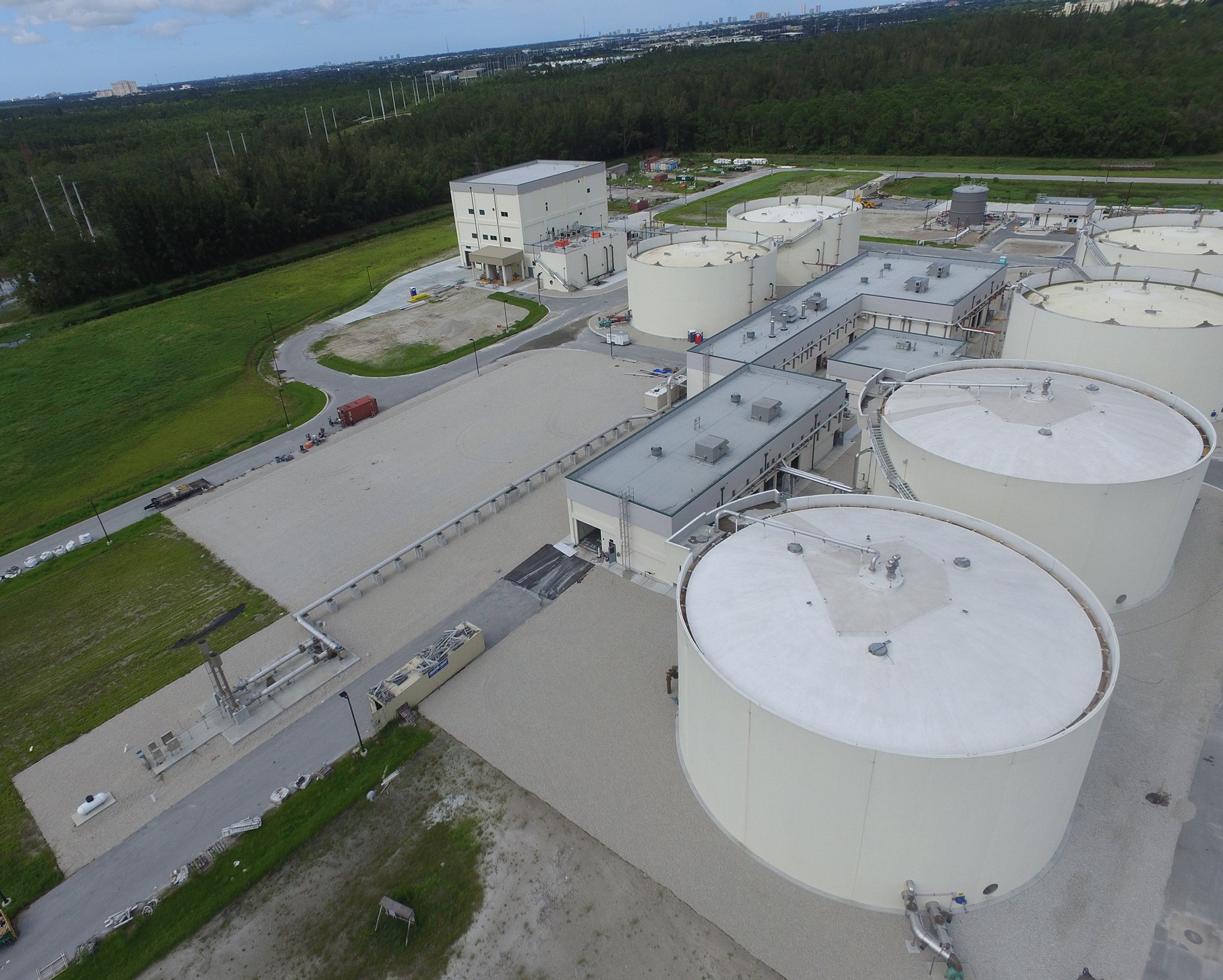 The East Central Regional Water Reclamation Facility provides service to five cities in Palm Beach County, Florida. Having been largely ignored since its opening in 1978, there were a number of issues in the facility: limited aerobic digestion in the open-air tanks, aging infrastructure and increasing solids production. Additionally, the regional biosolids composting facility closed, compounding the problems.
The facility's Operations Board determined that new processes and technologies were needed to improve the performance of solids destruction and dewatering, find a better solution for biosolids treatment and use and maximize energy recovery. The Board commissioned Hazan and Sawyer, a water engineering firm with offices in the U.S., South America and the Middle East, to come up with potential solutions and then handle the process of designing and managing construction of an improved facility. Hazan and Sawyer in turn brought in a Tnemec coatings representative, Blake Holmes, to recommend coatings able to stand up to the extreme environments present in the facility.
UPGRADING TO ANAEROBIC DIGESTION
The upgrades include new facilities for dewatering and temperature-phased anaerobic digestion, as well as better sludge storage and thickening. A regional pelletization facility was tapped to handle removal of the biosolid mass. Both changes provide environmental benefits. Anaerobic digestion creates methane gas that can be used to power the station, and the pellets of biomass can be used as fertilizer.
The project began by converting the existing decant tanks to an aerated waste activated sludge (WAS) storage tank and centrate EQ tanks. The conversion to WAS storage allowed the facility to decouple biosolids and sludge wasting, and the centrate equalization worked to attenuate nutrient recycles.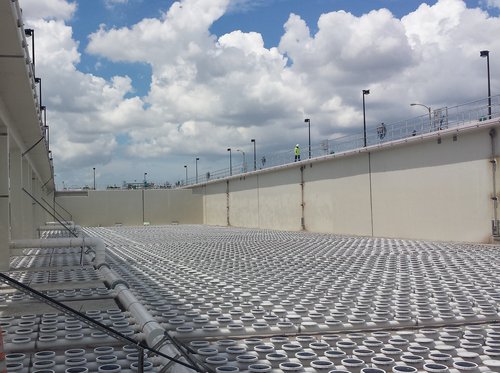 The interior concrete of the tanks was extremely damaged. To repair them, 3/8" of Series 217 MortarCrete, a commonly used cementitious repair mortar from Tnemec, was applied, using form-n-pour techniques for hard to reach overhead areas.
"The overhead form-n-pour applications were simple," said Holmes. "The contractor purposely formed these areas out ¼ inch, which made it easier to tie in the remaining repairs after the forms were pulled."
Series N69 Hi-Build Epoxoline II was applied at a thickness of 6.0 mils dry film thickness (DFT) to help seal the surface and minimize outgassing. Series 435 Perma-Glaze finished the interior system, providing abrasion and chemical protection in the severe environment.
Series 218 MortarClad was used to prime, patch and prepare concrete in both the digestors and the aeration basins. Series 434 Perma-Shield H2S was applied as the high-performance topcoat. A 100% solids hybrid epoxy mortar, Series 434 is formulated specifically to handle the types of gases common to sewage and wastewater environments.
"We've seen our Perma-Shield line applied in lots of wastewater plants throughout Florida," added Holmes. "And we have seen that they continue to perform well in these environments."
NEW FACILITIES
Aside from the conversion of the decant tanks, much of the plant's new facilities were all-new construction. A new fat oil grease (FOG) receiving station, ferric chloride storage and pumping facility, centrifuge dewatering facility, biosolids odor control facility and polymer storage facility were among the new additions.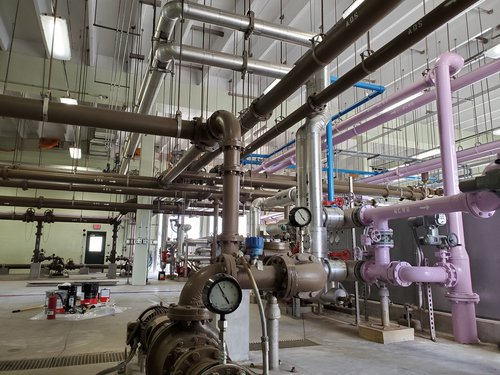 FOG – the food preparation remnants found in wastewater – is received for digestion through facilities which include a storage tank to heat and mix the FOG, and pumps used to transfer the FOG into the sludge loops of the digesters.
The temperature-phased anaerobic digestion process uses water from the plant to moderate temperatures of the digesters of different feed sludges. Feed sludge, injected with FOG from the on-site receiving facilities, is preheated to allow thermophilic digesters to work and then cooled enough through the use of service water to allow for the mesophilic digesters to complete digestion. A recovery system for the sludge heat takes excess digester gas and allows for smaller boilers and heat exchangers.
The centrifuge dewatering facility is made up of four verticals which each include a truck loading bay, sludge storage hopper, and centrifuge on top. The process separates out biosolids for processing, which will allow for management of offsite pelletization and onsite dewatering.
PERFORMANCE MATTERS IN HARSH ENVIRONMENTS
All Tnemec coatings used, from primers to topcoats, were applied under strict engineering guidelines to ensure their effectiveness when confronted with all the chemicals and gases inherent to wastewater treatment plants. The completed projects were subjected to the National Association of Corrosion Engineers (NACE) third-party inspections by PSI and Corrosion Probe to ensure the quality and longevity of the coatings. Tnemec's Perma-Shield coating systems were tested for adhesion and DFT, and high-voltage holiday tested.
The wastewater industry standard for protective coatings and linings, issued by American Society for Testing and Materials (ASTM) International, comes through the Severe Wastewater Analysis Testing (S.W.A.T.) apparatus, a laboratory cabinet that is able to simulate the harsh environments inherent to sewer headspace and wastewater environments. The benefit of the testing chamber is that it's able to provide contact with both sulfuric acid and sewer gases. The conditions are thus more representative of actual real-life conditions than earlier chemical contact tests. A 28-day exposure in a S.W.A.T cabinet correlates with approximately four years of exposure in a wastewater environment.
Tnemec's high performance in S.W.A.T. testing is a sign of excellent durability for years to come, even in environments as severe as the inside of a wastewater treatment plant.


E-News
Coating News Direct to Your Inbox
Stay informed about industry news and innovative coating products via email.
Reach Out to Tnemec
Get the Information You Need
Contact us now and request the exact information you're looking for. We look forward to getting you an answer ASAP.
Contact Your Rep
Looking for Some Local Coatings Guidance?
Reach out to one of our knowledgable and reliable representatives near you.